City of London Prints
I specialise in large-scale, exquisitely detailed panoramic prints of the City of London. Each of the City of London prints is such high resolution that they are stunning at large sizes on the wall. This resolution means that the print is not only immediately impressive, but the detail when viewed close up is spellbinding.
See prints in situ
When you look through the gallery, you'll see that each image is shown in an example room. You will see it framed in a traditional wood frame (below)…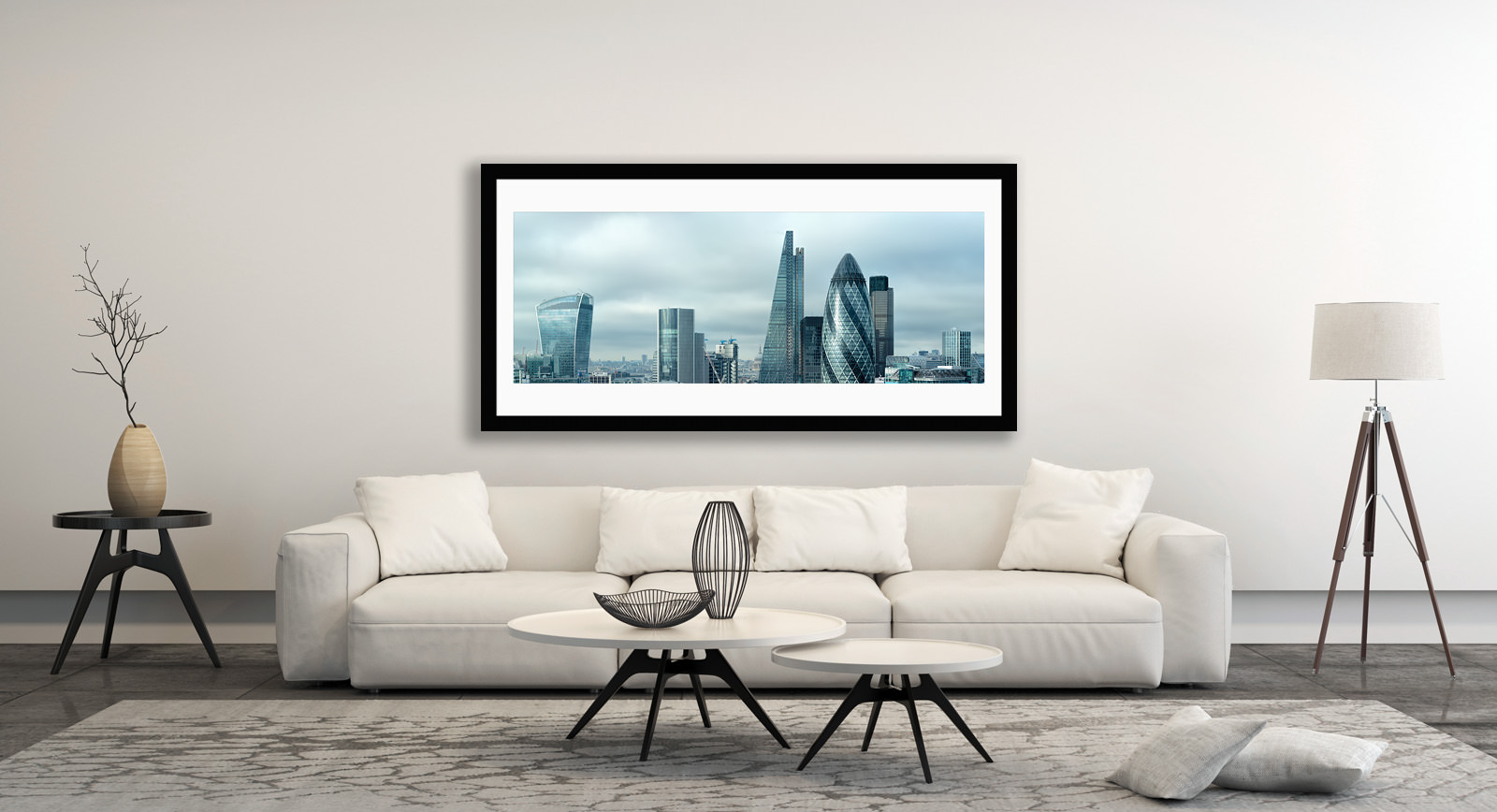 …and in a contemporary minimalist mount (below). Here the print is bonded to a backing (usually aluminium), and then an acrylic front is applied. This edge-to-edge finish gives a very clean, minimalist look, ideally suited to contemporary spaces.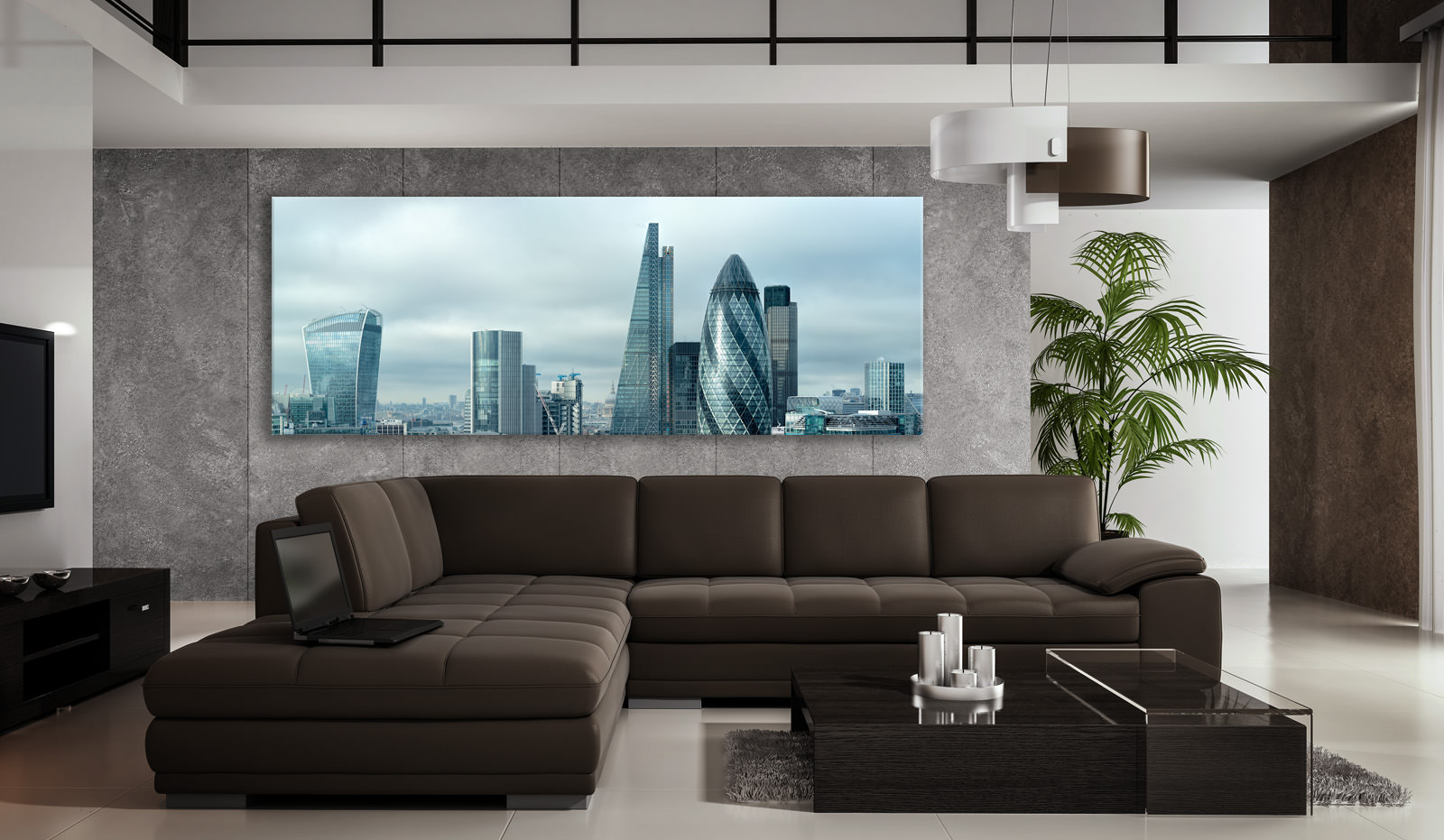 Please see a close-up of this mount below: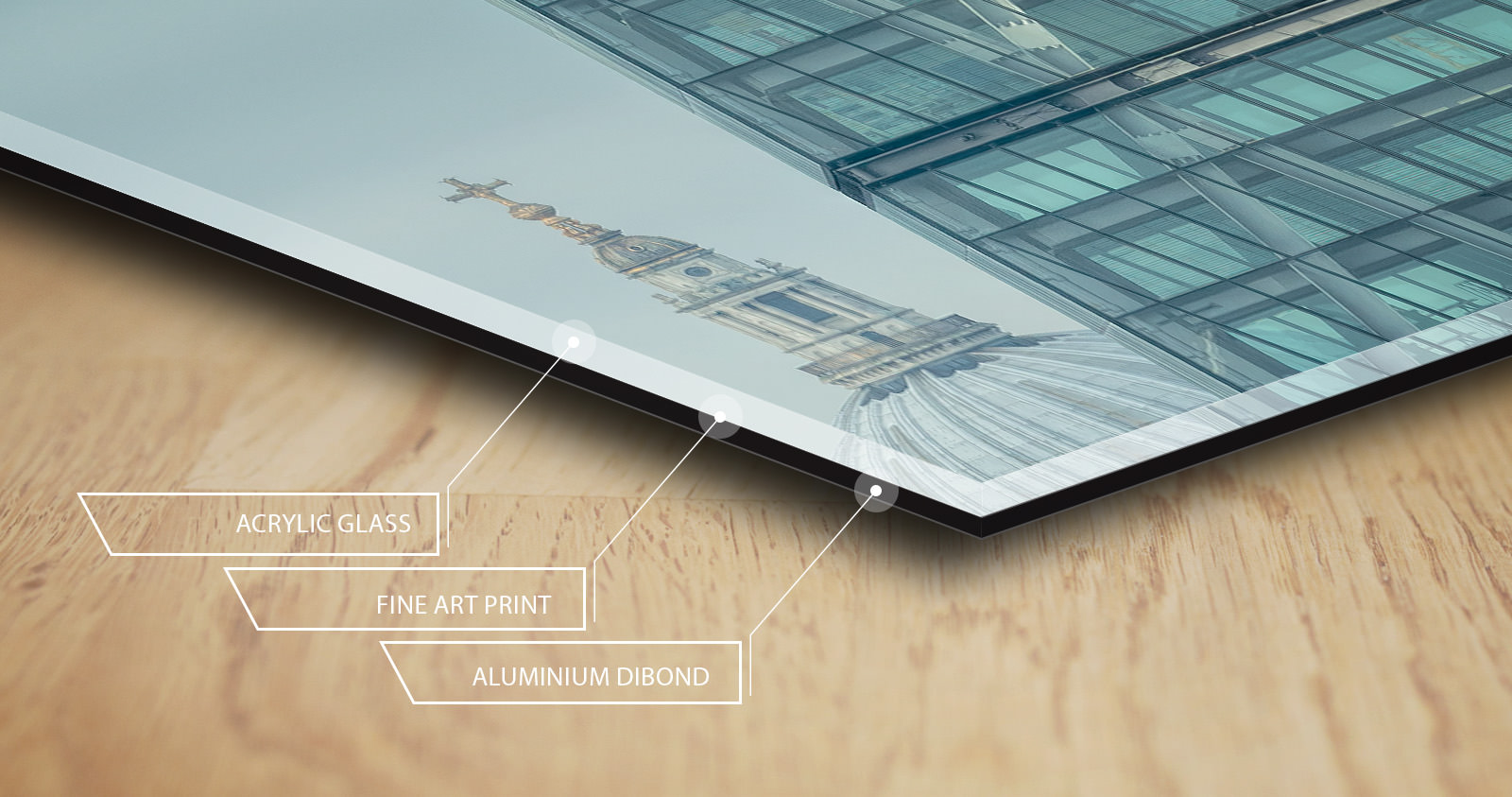 Fine art photography
Fine art photography prints at large scale make a big impact; arresting your gaze and drawing you in. Additionally, you want to be certain that when viewing it close-up, you should get lost in the detail, not be distracted by indistinct grain (noisy, grainy, pixelated). The vast scale of my images ensures that even when you're close-up, the minutiae is clear and crisp. The image shown framed above is 'Silvered City' – looking across the City of London onto some of its most iconic buildings. You can see a detail of this image below: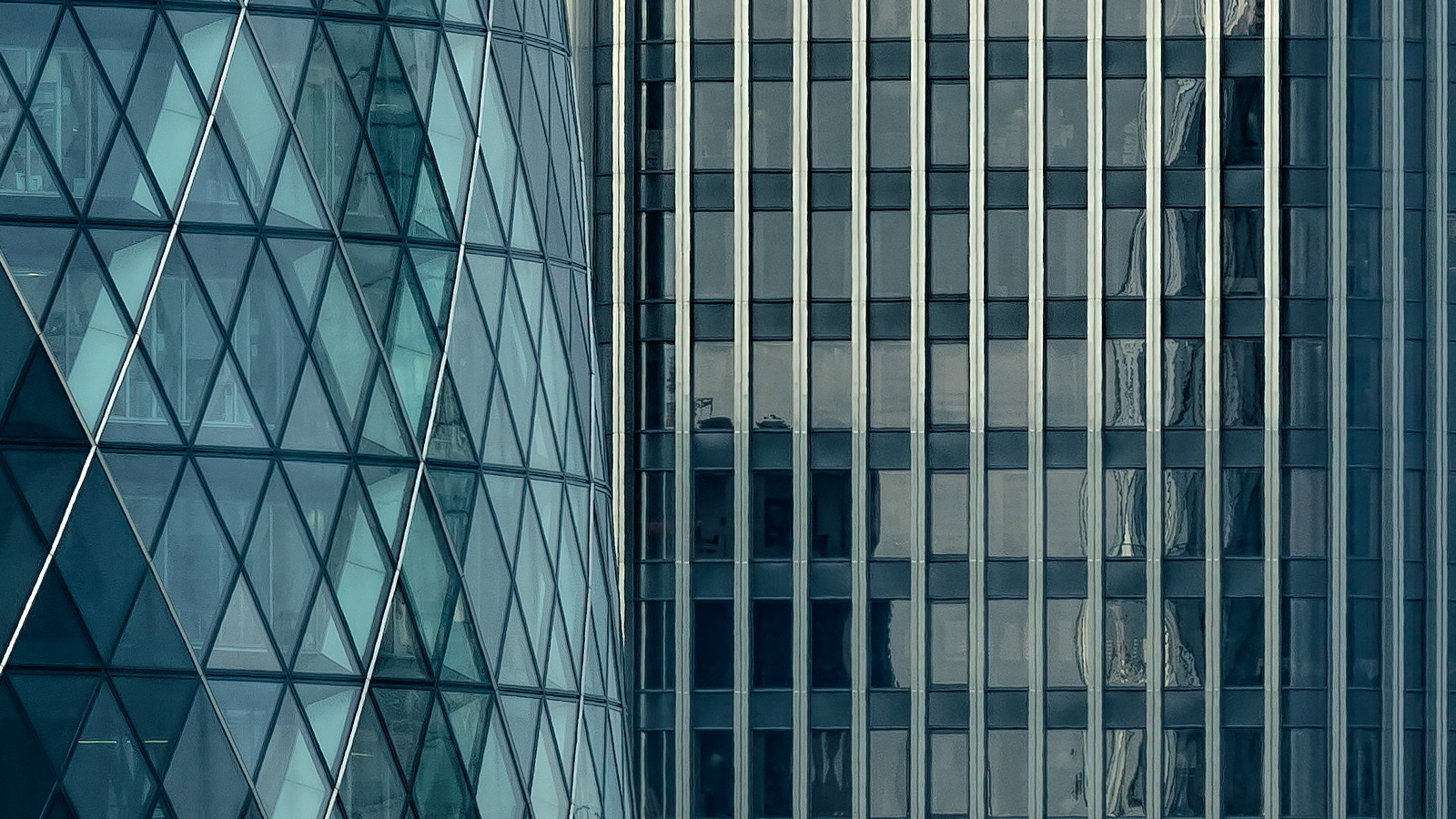 You can view the current gallery with many City of London prints here. Or read on for more information about how these images are made, about the prints themselves and the framing options available.
Photographing The City of London
I started shooting the City of London when I first moved to London. For me it epitomised London, more than the obvious hotspots like Piccadilly Circus or Trafalgar Square. Shooting views across the city from on high is a passion that started many years ago, and has developed into a lifelong project. When I started shooting the skyline, the big buildings were limited to St Paul's Cathedral, the Lloyds Building, Tower 42 and the Gherkin (30 St Mary Axe).
In the last 15 years there has been explosion of incredible buildings, changing the City's skyline forever. I've shot views from and/or views of many of these new additions. Including the Leadenhall Building (at 122 Leadenhall Street, also known as the Cheesegrater), 20 Fenchurch Street (the Walkie Talkie); the Shard and the Heron Tower. You can buy City of London prints showing the views from many of these locations.
How the images are made
Most of the images you see here are shot on a medium format camera. Medium format gives me the opportunity to capture the scene in the greatest detail possible. It makes the files more intensive (and challenging to work with), particularly as most of the images you see in my galleries are made up of multiple images which are then 'stitched' together to give an epic resolution.
The prints
The paper I use varies depending on the project requirements. So the stability of the image over the long-term is protected, my fine art photo prints are reproduced on archival stock designed to increase longevity. All papers are 100% acid-free. Acid-free paper is more expensive to produce but contributes to the prints long-term archival properties. I select the precise stock to give the best results for each image, and to work best with the framing option chosen.
Framing
I offer both traditional or contemporary framing options depending on your preference. Not only does professional framing create a wow factor when viewing the image on the wall, but it plays a vital role in preserving the image from degrading over time. The traditional wood frames use solid woods only. The wood is from sustainable sources and there are no veneers, MDF or other reconstituted materials used. Most of the frames are handmade and handfinished to bespoke sizes, as most of my large-scale images are not standard sizes. We can estimate on additional options for museum-grade glass that has low reflective qualities, allowing the image to be seen in full without distracting reflections, there are also options for glass that protects from UV damage.
Pricing
It might seem strange that there are no prices on any of the images. Because each image is created bespoke to your requirements, it's impossible to price all of the options available online. However, to give you a rough idea:
Unframed: 1 metre wide starting from around £600 including delivery
Traditional framed: 1 metre wide starting from around £900 plus delivery
Contemporary framed: 1 metre wide starting from around £900 plus delivery
Each City of London print is an heirloom, a record of a moment in the City's lifetime, to be passed on to children and grandchildren. Often commissioned for people with a connection to the City of London – as leaving presents, retirement gifts and wedding presents. Please look through the current gallery here. If there's a particular area of the City of London you want but can't see in the gallery, then please get in touch as I may well have an image that isn't shown here.
Thank you for visiting and best wishes
Will